Although I'm up for a variety of projects, community based and participation driven projects really get me motivated.
I want to enhance the music, art and culture in my community and nation-wide.
While most of this website is dedicated to visual aspects of my work, I am also heavily into music. I am a dj, multi-instrumentalist (flute, guitar, harmonica) and songwriter.
Visit my music blog here: http://djmediafrenzy.blogspot.ca/
DJ MEDIAFRENZY

dj mediafrenzy spins vinyl records around town at home, work, bars, parties and art shows. Music flows through her veins. When she's not spinning tunes, she is busy booking bands, setting up shows and organizing festivals, jamming with Chutney Sessions, writing raps, wailing away on harmonica, strumming guitar, trilling the flute or singing a tune. Her musical loves range from Joni Mitchell to Gorillaz, Tortoise to The Supremes and a heck of a lot in between. Contact msmediafrenzy@gmail.com to book.



EAST VILLAGE ARTS CO-OP

East Village Arts Co-op
EVAC's purpose is to support art and creativity in the East Village and greater London community, by providing inclusive, accessible and affordable gallery/creative space, resources, workshops and events.
I have created a web site & business cards for EVAC, curated art shows, booked & organized events, festivals, concerts & workshops, as well as taken on an key role in keeping the collective alive.
E-mail: eastvillagearts@gmail.com if you want more information on events or membership opportunities.

CHUTNEY SESSIONS


Why jam, when you can chutney? Chutney Sessions are my musical fix, a way to unwind through strumming, drumming, breathing and singing. This all female music group is open and ever changing, the songs adapted and invented, the result always pleasing. Visit us on facebook:

>


PAST PROJECTS

London Women's Artist Collective
Founded in Spring of 2006 by a group of local women, LWAC has evolved into a collective of over 70 members. We have workshops, events, showcases and a lot of fun!
I created a web site and business card for LWAC, which is no longer meeting regularly, but many friendships and collaborations came out of the project. LWAC was great way to learn new skills and enhance the community while meeting new people with similar interests.
E-mail: lwac@riseup.net if you want more information.


City Farming Project
Local sustainable agricultural project, growing vegetables and herbs in London, Ontario. Along with being a member of this project I produced a documentary on the importance of buying local food.Production of the documentary Cultivating Change began in the Spring of 2006. I was the camera woman, editor and animator for the film. The premiere was held at the London Central Library on March 11th 2007.


London Indie . com
Great free resource for bands and musicians to add their own profile and show dates. Events can be added by anyone to keep our city informed of all the music culture happenings. User forum, reviews, promotions and so much more. Always something new to hear about! We are looking for writers too!


Calendars
I have created beautiful accurate 13 month calendars for the years 2006 - 2012, featuring my photography of picturesque Ontario. Calendars include moon phases, birthstone and flower info, holidays and image description. To pre-order a 2013 version of this calendar click the title above.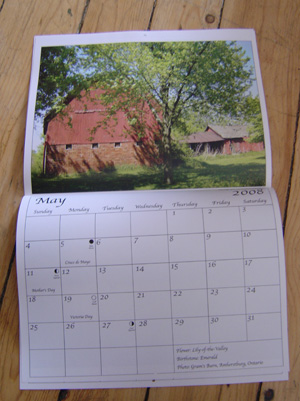 TREA
Thames Regional Ecological Association
Creation of a 20 minute DVD promotional video, encouraging community participation in the Commuter Challege and other alternative transportation practices. I have also worked on the poster/flyer and t-shirts for the annual event for the past 3 years. The event takes place during the first week on June, with events happening across the country.
Get active and leave your car at home.
Contact TREA for more info on the
London Bicycle Festival & Commuter Challenge
www.trea.ca

green~space
I've been inspired to create a source for information for sustainable living practices. The site is in it's infancy, so there is not much content yet, I've just done the design. Soon it will have information on housing, food, energy and transportation - and how we can make simple lifestyle changes to live with the earth instead of against it.
Please let me know if you like the design and what you think should be included on the site. I could use some writers. Contact me if interested in participating.

The Variables
The variables are a group of media specialists who have joined forces to expose their talents.

http://london.activist.ca
Another past project was to design a new web site for London Activist Network. LAN brings together concerned Londoners to organize events and spread the word about important issues. Membership is free and the knowledge gained is priceless.
Let me know what you think of the new design.