Although I'm up for a variety of projects, community based and participation driven projects really get me motivated. I want to enhance the music, art and culture in my community and nation-wide.
While most of this website is dedicated to visual aspects of my work, I am also heavily into music. I am a dj, radio show host, multi-instrumentalist (flute, guitar, harmonica) and songwriter. http://djmediafrenzy.com
DJ MEDIAFRENZY
dj mediafrenzy spins vinyl records around town at home, work, bars, parties and art shows. Music flows through her veins. When she's not spinning tunes, she is busy playing shows with Westminster Park, jamming with Chutney Sessions, writing raps, wailing away on harmonica, banging on the drums, trilling the flute or singing a tune. Her musical loves range from Joni Mitchell to Gorillaz, Chromatics to Sharon Jones and a heck of a lot in between.
Contact info@djmediafrenzy.com to book.

DJ MEDIAFRENZY

Tune in to MEDIAFRENZY FRIDAYS every other Friday on CHRW Radio from 2-4pm. There is a different topic discussed each show, and I select songs to fit the theme of the program. Check out all the past show playlists on dj mediafrenzy's blog page.
The occasional weekend gig finds me as a dj, behind the decks as dj mediafrenzy. I've selected and mixed the soundtrack at parties, bars, art shows, campaign launches, corporate events and more!
I spin straight from vinyl, experimenting and scratching a little when appropriate, but mostly I just like to play good tunes for people to enjoy. My style is a little rock around the clock, hopping over to some hip, songs from the sixties to seventies, and a whole lotta funk. I also have the albums for a more lounge style events.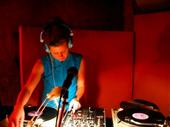 Basically, I will take into consideration the type of event and the music most suited for the occasion. I have a lot of fun doing it too! If you are holding a function that needs some musical attention, considering hiring me to DJ for the day or night!
Westminster Park
In the summer of 2016, I was invited to join Westminster Park as their new drummer. Naturally, I brought my multiinstrumental skills on the flute and harmonica into the practice space as well. In December 2016 we released an EP and in July 2017 we released a full length album titled Fig 4: Molt Rebirth. The album was nominated for the Polaris Prize. Both albums can be purchased online or at Grooves Records. I designed the album art for the latest album. We performed live frequently, including a show at the Legendary Horseshoe in Toronto and The Aeolian Hall in London. follow our facebook to keep in the loop.
Watch our music video for "Been Out Walking".


PAST PROJECTS
East Village Arts Collective
EVAC's purpose is to support art and creativity in the East Village and greater London community, by providing inclusive, accessible and affordable gallery/creative space, resources, workshops and events.
I created a web site & business cards for EVAC, curated art shows, booked & organized events, festivals, concerts & workshops, and for 8 years took on a key role in keeping the collective alive.
E-mail: eastvillagearts@gmail.com if you want more information on events or membership opportunities.
CHUTNEY SESSIONS
Why jam, when you can chutney? Chutney Sessions are my musical fix, a way to unwind through strumming, drumming, breathing and singing. This all female music group is open and ever changing, the songs adapted and invented, the result always pleasing. Visit us on facebook.
PASSION FOR THE ENVIRONMENT
green~space
I was inspired to create a source for information for sustainable living practices. The site is in it's infancy, so there is not much content yet, I've just done the design. I hoped to fill it with information on housing, food, energy and transportation - and how we can make simple lifestyle changes to live with the earth instead of against it.